THE WAY FORWARD TO A BETTER CONTROL ENVIRONMENT
Our new ROADMAP TO CONTROL EXCELLENCE provides you with a review of your current control framework as a practical first step towards achieving compliance with SOX or other financial regulations. It helps you understand how to quickly and effectively improve internal control based on an internationally-recognised standard and identify potential cost savings in your control environment.
We undertake your review using the five components of the COSO Internal Control Framework (see below). The result is an action plan that shows you how to achieve practical, realistic and cost-effective improvements to your internal control environment.
Control Environment – we look at the standards, processes and structures that provide the basis for internal control across the organisation and how you can demonstrate control to auditors and regulators. Our structured process captures and defines control structures and reporting lines and clearly identifies who holds the responsibility for control for each key business objective
Risk Assessment – we look at the framework you have in place for identifying risks to the achievement of objectives
Control Activities – we carefully analyse the control activities and procedures that are in place to mitigate risk
Information and Communication – we look at how communication supports internal control and show you how to generate good quality information to improve the control framework
Monitoring Activities – we look at how internal control is evaluated and assess whether all elements are designed and operating effectively. We will also highlight whether deficiencies are made sufficiently transparent across the organisation.
Once we have completed your review and delivered your report, you are free to use it to commission any control framework you choose.
The Roadmap to Control Excellence costs from just £2,995. Get in touch today to book your discovery meeting.
KEY FEATURES
COSO-based review of your current control environment
Identification of gaps, inconsistencies or broken processes in your current control framework
Clear, step-by-step guide to enhancing the control environment and improving performance
Demonstration of potential cost-saving.
The COSO Framework
The Roadmap to Control Excellence uses the internationally-recognised framework of principles developed by COSO – the voluntary private-sector initiative dedicated to improving organisational performance and governance through effective internal control, enterprise risk management and fraud deterrence.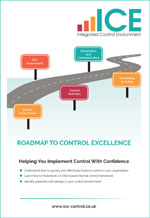 Download full details HERE or book a Roadmap to Control Excellence discovery meeting here.